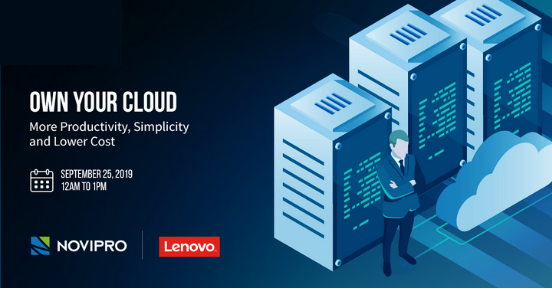 Webinar: own your Cloud with More Productivity, Simplicity at a Lower Cost
ThinkAgile CP by Lenovo is a ready-to-use private Cloud designed to help IT leaders transform their organizations into innovative centers by freeing their staff from time consuming maintenance tasks.
The webinar is hosted by:
- Kenneth Corkins, Software Defined Infrastructure Sales Engineer, Lenovo
- Mattew Horne, Financial solutions specialist, Lenovo
- Éric Landry, Director of IT partnerships, NOVIPRO
Our solution resides in your data center and you'll maintain control of your security, service level agreements, and avoid the unpredictable monthly billing of public cloud. ThinkAgile CP can scale as your business grows, all while helping you quickly respond to the demands of your organization by automating the management of your applications and security policies with just a few mouse clicks.
Turnkey composable cloud: No additional infrastructure purchases, or manual configuration are required to integrate and deploy the solution. Independently scale storage and compute pools as needed.
Ease of management: Easily managed by IT generalists and requires no additional specialist staffing skills.
No public networking latency: data is securely behind customer firewall.
Cost containment with dedicated performance: It's an on-premise cloud with a known cost to the organization. No unpredictable monthly charges.
3 good reasons to participate:
IT as a catalyst for business competitiveness
Redeploy staff and achieve IT goals faster
Lower cost than the public cloud, with predefine and known costs while retaining control of performance and security
Ready for your cloud Journey ? Tell us how we can help you?