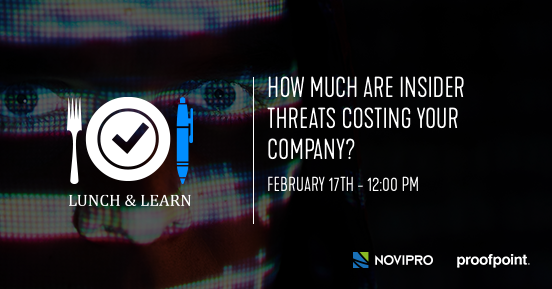 Webinar | How Much are Insider Threats costing your company?
According to the 2020 Cost of Insider Threats Global Report by the Ponemon Institute, the average global cost of Insider Threats rose by 31% in two years to $11.45 million, and the frequency of incidents spiked by 47% in the same time period.
Since the report was published, the Covid-19 pandemic gripped the nation – forcing organizations to manage business-critical functions that were traditionally in-office activities remotely. This shift in workforce dynamics brings with it a new set of cybersecurity and insider threat challenges.
YOU'll learn :
The findings of the 2022 Ponemon Report
Why it's more important than ever to protect your information against accidental mistakes, attacks and insider risk
SPEAKERS :
Brian Reed
Director of Cybersecurity Strategy
Proofpoint

Roger Ouellet
Director of Security Practice
NOVIPRO