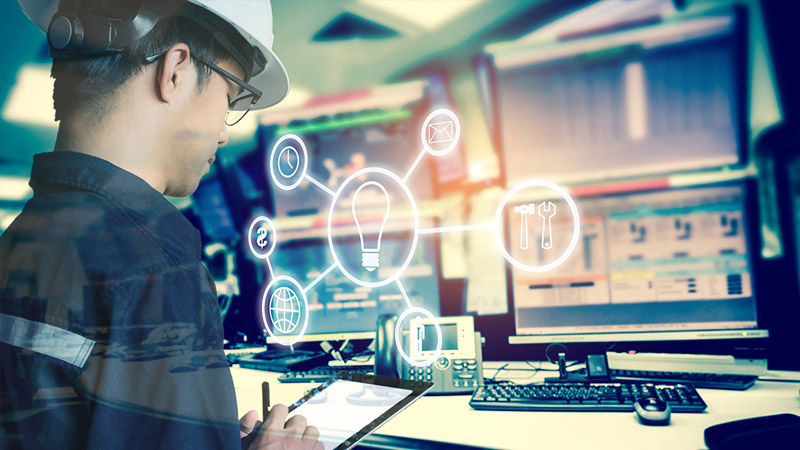 Testing and selling ideas starts with simulation
In complex environments like manufacturing plants, hospitals and airports, having the power to visualize the efficiency of a production line or the flow of passenger traffic before implementing changes can make all the difference.
Ideas for sale
Mike Lazzaroni, a senior planning analyst at Vancouver Airport remembers how, 15 years ago, passengers frequently spent an hour waiting at Customs. "There were so many people arriving that we thought we'd have to spend millions on expanding the airport," he recalls.
Instead of investing in brick and mortar, Vancouver Airport opted for a much less expensive solution: installing self-serve terminals for inbound travellers. "We realized that customs agents had to perform various small administrative tasks for each passenger—things people could easily do for themselves on an interactive terminal," Lazzaroni explains. "Thanks to this change, a process that previously could take 60 seconds now takes just 15."
Waiting times at Vancouver Airport are now minimal, even though annual traffic has doubled.
This innovative development was the result of various studies carried out with SIMIO, a simulation program. In this project, the simulation proved useful for calculating how many terminals would be required and what the potential gains would be—and ultimately, to sell the idea to decision-makers. "Fifteen years ago, it wasn't immediately obvious whether terminals would really help us meet the need. Being able to see how traffic would flow through the airport after the terminals were installed is a bit like virtual reality."
Seeing is believing
While airports have to handle thousands of travellers and hundreds of flight arrivals and departures on a daily basis, manufacturing plants also have to juggle a multitude of considerations, such as client orders, manufacturing formulas, primary materials, production costs, machine speeds, reliability, handling, storage and operators. Each of these details impacts the plant's production capacity.
Major plant investments often involve changing several of these factors at once, making it hard to predict how the new system will work. It's important to remember that updating facilities is like tinkering with the gears; the whole production line will be affected.
"Before approving a project, companies want to be sure that the new system will be efficient and help them meet their business goals," explains Steve Paré, Simulation Practice Manager at NOVIPRO. "Once the changes are made, will the plant be able to produce parts in a reasonable timeframe? This is something that businesses want to know in advance."
SIMIO allows you to create a 3D prototype of a system (such as a production line or logistic chain) and simulate various scenarios. Using animation and performance statistics, it can give you a good idea of how your new system will work. Wondering if it would be worthwhile to schedule a night shift? Thinking of reconfiguring equipment to increase productivity? Unsure of whether you could double production if the need arose?
"In manufacturing plants, mistakes can be very costly," says Paré. "If you purchase and install equipment only to discover that it doesn't work as expected, you have to uninstall it and start over again—and all the while, you're not making anything. The beauty of simulation is that you can make mistakes on a screen, and not on the floor."
Read the next article of our IT Tranformation Series : Second-gen entrepreneurs: preparing businesses for the future.