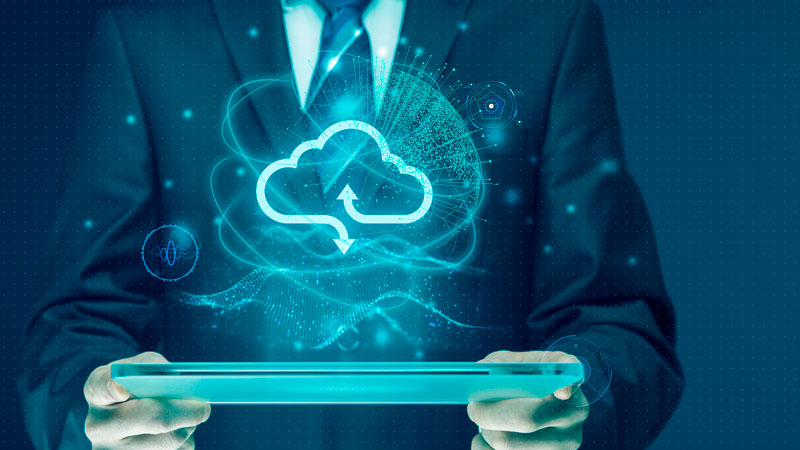 Data backup: Is your business keeping pace with best practices?
Data is one of the most valuable assets a company owns. Your business should have a reliable and effective data backup plan that enables you to recover data quickly.
Today's companies need to be able to rapidly recover mission-critical data so they can ensure business continuity in the event of an incident or disaster. And in some industries, organizations also have to comply with strict data backup requirements imposed by laws and regulations. Most businesses know that a data backup plan is essential, but are their plans effective enough?
With so many new and changing factors affecting data—including big data collection, artificial intelligence, cybercrime, laws and regulations governing the use of personal data, and rapid advances in backup technology—business leaders need to answer this important question: does your business apply industry best practices for storing and protecting the data it generates and processes?
Here are seven tips to help you avoid unwelcome surprises.
1- Create a backup policy as part of a broader data management strategy
Data backup is only one component of a wider data management strategy. Your organization should:
Effectively protect the data it generates and collects.

Establish appropriate archiving rules in view of your needs, your resources and regulatory obligations.

Make sure data is easily accessible and usable for authorized users.

Store data according to features like data type, data source and applicable regulations.
Corporate data management strategies can cover a lot more than backup. Other considerations include snapshot copies, data mirroring and data replication across multiple sites.
For companies that use these technologies, traditional backup is only used as a last resort. For those that don't, there's a much higher risk that they will actually have to use a backup copy. That's why it's worth assessing the role of data backup in your data management strategy, taking into account the other technologies that your business uses.
2- Establish a backup schedule
Your data backup policy should list which tasks need to be executed daily, weekly, monthly and annually. The most frequent backups should respond to tactical needs. Less frequent backups, or backups that target a wider scope of operations or more remote equipment, have a more strategic purpose.
Organizations should prioritize and schedule their tasks and document this in writing. They should also regularly keep records of executed tasks. That way, they will be able to validate that the stored copies meet the requirements of their policy at any given time.
3- Make two copies, or even three
It is often a good idea to save two copies of your data:
A primary backup, one that is easily and locally accessible and can be used almost instantaneously, and
A secondary backup, stored outside the premises of your organization, as a last defence against data loss.
Some experts even recommend applying the 3-2-1 rule, which states that every organization:
Should keep at least three copies of its data
Stored on at least two different storage media
Of which at least one should be located off-site.
If making two copies is unrealistic for your organization, cloud computing offers an ideal platform for storing a secondary backup remotely: your primary copy goes on a physical medium on-site, while the secondary copy is stored "in the cloud".
4- Verify that your data is backed up properly
To be effective, your backup policy should be routinely reviewed. Specifically, you should be able to view a report of executed tasks on a daily basis.
A good backup management tool can help you adapt the content and format of your reports to your needs through specialized dashboards that make it easier to monitor your key performance indicators (KPIs).
5- Make sure you can actually access your data when you need it
All too often, companies realize far too late that the backup data they need isn't stored in a format that is usable to them.
The only sure-fire way to prevent this from happening is to periodically test your backups. Backup testing should verify that:
The data format and storage medium used are still fully compatible with the systems used at your organization

The physical storage media used, such as magnetic tape, is still adequate, in good condition and readable

Your data recovery process complies with the obligations set out in service-level agreements signed with third-party suppliers

You will be capable of restoring operations within the established timeframe

The data backup format and recovery process take into account the volume of data that would need to be recovered and your business objectives.
There should be a designated individual at your organization in charge of regular backup testing.
6- Harmonize processes and align backup solutions
Organizations that use multiple IT environments often face logistical challenges when each environment requires its own backup technology.
Such companies are likely to favour solutions that enable them to store their data in multiple locations. For example, with Linux it is possible to back up data processed by multiple hypervisors. There are also solutions that let you store data used by multiple cloud computing platforms that offer SaaS (software as a service), such as Google Cloud, Office 365, SalesForce and Microsoft Teams.
In general, it is often easier to transfer data from multiple environments to the cloud than to a physical storage medium.
7- Assign to data backup to a specific person or supplier
It's hard to get IT professionals excited about backing up data, which is often seen as a labor-intensive and ungratifying task. And it's easy for employees to forget to save data or to shift their attention to more pressing priorities, like meeting IT projects deadlines.
Even when a company employs a chief security officer, data backup often occupies a grey area within the organization: is it the responsibility of the security department, or the IT department?
Therefore, it is essential to recognize the importance of data backup and to clearly assign responsibility for this task to an individual or supplier. Even if it doesn't amount to a full-time position, your organization needs to know who it can rely on to rapidly recover mission-critical data for ensuring business continuity in the event of an incident.
Consider outsourcing your data backup management to a third party
NOVIPRO offers data backup planning, implementation, support and maintenance services to businesses through on-premises, cloud or hybrid arrangements. Find out more about our specialized business continuity solutions.
Our E-SPACE division can help host your data and save a backup in the cloud. Its services include:
Sophisticated cloud hosting in a Tier 3 high-security data centre

Multi-environment solutions

Integrated backup management

Dedicated assistance from data backup specialists including Tier 2 technical support (available 24/7, 365 days a year) from a secure operations centre
Learn about the E-SPACE specialized backup and security offer.